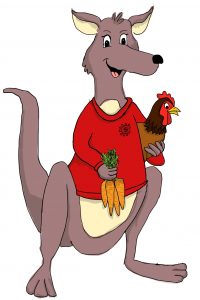 Wangala Primary School is proud to be a 'Stephanie Alexander Kitchen Garden' program member.
The 'Stephanie Alexander Kitchen Garden' (SAKG) program aims to introduce children to the pleasures of preparing, cooking and eating a variety of foods they've grown and harvested themselves. At Wangala Primary School, all students across the school are involved in the growing of food in 'Porrgil's Patch', our very own orchard and vegetable patch.
Our SAKG program sees students from different grades utilising the harvested produce to prepare a range of delicious dishes. Their finished meal is arranged with pride and care on tables set with flowers and native arrangements from our garden. The shared meal is a time for our students, teachers and volunteers to enjoy the fruits of their labour, and each other's company and conversation.
The program helps children learn; new language to describe foods, plants, textures and flavours; use mathematics to measure and weigh; to work as a team; to develop greater self-confidence; and to develop awareness of the environment, sustainability and plant diversity.
Our SAKG program relies on the many volunteers who help out.