Friday, 24th February, 2023
This week our classrooms began investigating their first inquiry, 'From the Farm', with this inquiry setting out to help students understand how and where plants and animals are grown to provide food, clothing and shelter.  For our 3/4s and 5/6s, they take this learning further and investigate where in Australia and Asia different things are grown, and compare traditional and modern techniques for this.  Inquiry learning is an amazing opportunity for students to not only investigate into topics and delving into their 'wonderings', it builds the life-long inquiry skills students can apply, as we lean into our value of being 'future focused'.  At the end of the term we will hold a special event to share the learnings of our students.  During the term we will also be visiting 'Common Ground Project' in Freshwater Creek to learn more on a working farm.
During the week the school council met for the first time this year.  This is the last meeting for some of our school council members before our new council member join us at our AGM and meeting.  I would like to thank Melinda Lyons, Kelly Wise, and Hannah Beaumont for their time on our school council over the past two years.  I would also like to welcome new council members, Chelsea Thompson, Kellie Reddington, Andrea Hueston and Rebecca Rees.  School council play an important role in the governing of our school and I encourage you to have a chat to any one of our council members if you'd like to know more, or would like to have something discussed at our council meeting.
Thank you to everyone that participated in the 'Parent and Carer Conversations' with our teachers over the past weeks.  These have been really helpful in building a connection between home and school, and for our teachers to best work with your child.  Please remember that you can always make an appointment to have a chat with our teachers.  
Our Year Three and Year Five students will be completing the National Assessment Program – Literacy and Numeracy (NAPLAN) in the second half of March.  The schedule has not been finalised as yet, however the tests will be conducted in the following order; writing (with Year Three students writing on paper and Year Fives writing online), reading, conventions of language, and numeracy.  
School Wide Positive Behaviour Supports (SWPBS) is now firmly embedded at Wangala Primary School.  SWPBS is an approach to help all students learn to self-manage behaviour.  Family involvement is a key feature and important in all aspects of SWPBS.  You can be involved in SWPBS in many ways by:
  – reading materials distributed by the school 
  – using the Positive Behaviour Matrix to role model positive behaviours 
  – verbally acknowledging and recognising when your child meets expected behaviours 
  – responding consistently and with meaningful consequences when problem behaviour occurs.
Make sure you take a look at our Positive Behaviour Matrix at the end of this newsletter.
At the assembly on Monday, our Sustainability Leaders Eva and Kaylee challenged everyone to have a 'Nude Food' lunchbox to reduce the litter we have in our school yard, and the impact this litter has on our environment.  We're proud of our beautiful school grounds and want to ensure we make the most of every opportunity to be sustainable and environmentally concious. 
Kind regards!
Steven King
Principal
Wangala Primary School acknowledges the Traditional Owners of the land we are on, the Wadawurrung people, and thank them for sharing thier long lasting culture with us as we learn and grow together.
Tuesday, 28th February
Cafe Lunch
Wednesday, 1st March
Preps attending school
Friday, 3rd March
School Colours Day – Tabloid Sports 
Monday, 6th March
2.45pm Assembly in the Gymnasium
Tuesday, 7th March
5/6 students to visit Belmont Community Kinder
Tuesday, 7th March
Cafe Lunch
Thursday, 9th March
Healthy Harold attending Wangala (P-2s)
Monday, 13th March
Labour Day Public Holiday
Tuesday, 14th March
Cafe Lunch
Wednesday, 15th March
NAPLAN over the next fortnight
Monday, 20th March
2.45pm Assembly in the Gymnasium
Tuesday, 21st March
Cafe Lunch
Sunday, 26th March
9.00 – 12.00 Working Bee 
Well done to our Star Student and Principal Award recipients…
Prep – Fergus and Aneisha,
One and Two – Casey, Georgia, Soula
Three and Four – Darcy and Pixie
Five and Six –  Kian, Willow, Kaylee, Erin, Gordon and Lily
GELC – Mia
Working Bee
School council will be holding a working bee on Sunday, 26th March from 9.00am to 12.00pm. More information will be shared around our tasks and how you can help out. We would love to see you all there!
School Uniform and Hats
Families are reminded that students need to be in school uniform each day and to wear uniform appropriate to the weather. Please be reminded that students should not be wearing bike shorts as part of the uniform unless covered by shorts, other pants or underneath a skirt/dress.
In Term One and Term Four, students are required to wear a hat as part of the Sunsmart Policy. Students who do not wear their hat will be required to stay under the sheltered eating area during break times.
For our 5/6 students sublimated hoodies are now available to be ordered at the office. These are $65 per item.
Cafe Orders
Tuesday Cafe orders must be received and paid for by Friday afternoon. We will no longer be accepting late orders due to catering requirements. Thanks to the many people who have paid for the term in advance. There will be a price increase at the beginning of next term with lunches being $4.00 per student when paid for the term in advance. For casual payments, the cost will be $5.00.
Kitchen/Garden donations
We're seeking donations for our garden patches! If you have plants, seeds or seedlings at home that you've propagated, or any tools etc. that you no longer want, please send them our way for our students to use in our garden.
CAMPS, SPORTS AND EXCURSIONS FUND (CSEF)
The Government assisted Fund provides payments for eligible students to attend camps, sports, incursions and excursions ($125 per child). Applications for the Governments 'CSEF Fund' can be accessed by filling in the application form and returning it to the office with a copy of your current Health Care Card. Families holding a valid means-tested concession card or temporary foster parents are eligible to apply) i.e. a Centrelink Health Care Card or Pension Concession Card or Veteran Affairs Gold Card.
If you applied for the CSEF at your child's school in 2022, you do not need to complete an application form in 2023 unless there has been a change in your family circumstances.
You only need to complete an application form if any of the following changes have occurred:
– new student enrolments; your child has started or changed schools in 2023 or you did not apply in 2022.
– changed family circumstances; such as a change of custody, change of name, concession card number, or new siblings commencing at the school in 2023.
Funds are paid to the school and will be automatically allocated to the Extra-Curricular Items and Activities unless otherwise stated by the parent at the start of the year.
Shared responsibility of members of the school community to behave respectfully
Wangala Primary School prides itself on being a safe, inclusive and respectful school setting. Positive school environments are important because everyone has the right to be safe and play a shared role in being respectful. Everyone at Wangala, particularly staff and parents/carers, play a role in making school a better place for learning and work.
Respectful behaviours are important in building strong, healthy and thriving school communities.
School staff in Victorian Government schools have to follow the Respectful Workplaces Policy to build and maintain a respectful workplace, including:
– treating each other with respect and consideration
– being inclusive, valuing others and accepting their differences
– recognising the efforts and achievements of others
– considering our impact on others
– calling out and addressing behaviour that can lead to bullying, harassment and discrimination.
Parents/carers can create a positive environment for learning and work by:
– modelling positive behaviour to their child/children and to the school community
– communicating politely and respectfully with all members of the school community
– working with the school to achieve the best outcomes for their child/children
– communicating constructively with the school
– making use of the expected processes and protocols when raising concerns
– following the school's processes for communication with staff and making complaints
– treating all school staff, students, and other members of the school community with respect.
When this relationship is built on respect and trust, students learn better and feel like they belong in the school. The foundation of a good collaborative relationship is based on:
– open and honest communication|
– trust and respect
– working together
– fair and reasonable expectations by all.
On Friday, 3rd March we will be having our 'School Colours Day', with students and staff wearing their house colour.  A reminder that Kanyul is red, Perridak is blue, and Mon Garrk is green.  On the day we will be having a 'Tabloid Sports' carnival from 11.00am until lunchtime.  We invite everyone to come along and watch our students participate in a range of fun activities, and get into the spirit of their new houses!
Outside School Hours Care
Our Outside School Hours Care program is off to a great start this year! In between numerous craft activities, outdoor games and lego construction challenges, we have been busy getting to know each other using our Conversation Cards and having a yarn over our afternoon fruit platter. 
"In OSHC we do crafty stuff, on Friday we watch and then review movies, we go outside and play games, Steph sings a lot, and we have lots of fun." – Willow
"My favourite part of OSHC is drawing and colouring in pictures." – Isabelle
"OSHC is really fun, everyone has a really good time." – Louella
We have made some changes to the time and costs of our Outside School Hours Care service, to take into account additional requirements from families, hours of operation and staffing requirements.  This will come into effect from the start of Term Two, Monday, 24th April 2023:
Times of operation:
Monday to Friday 6.30am to 9.00am (at a cost of $20)
Monday to Friday 3.15pm to 6.00pm (at a cost of $25)
Our Prep students had their first visit to the school library this week. Huge thanks to Mr King's mum, Shirl for donating the library bags! I wonder what amazing books the Preps discovered?
3/4s Book Study - 'Walk of the Whales'
This week in the 3/4 classroom students have been enjoying the book, 'Walk of the Whales' written and illustrated by Nick Bland.  It is a story about a time when all the whales decide to leave the ocean and go and live on the land in towns and cities.  The students enjoyed sharing the book and created their own A to Z dictionary all about whales.
This week the 1/2s have started learning about our first unit of inquiry 'Where does it come from?' We have planted our own mystery seeds in a cup and we will be watching them grow over the next few weeks. We have made predictions about what they will grow into but we do know that they can be put into a salad. Once they are big enough, we will plant them in our class garden bed so they can continue to grow. Next time you are near our classroom, have a little peek in the window to see how they are growing!
Building our Yarning Circle
Late last year we received a grant from 'Energy Australia' to build our 'yarning circle' in an unused area at the front of the school.  Our landscaper Julian has been busily creating the space which will be visited by classes throughout the week to conduct their yarning circles.  Throughout the week, all classes at Wangala Primary School hold yarning circles to discuss feelings and emotions, and the strategies to be able to navigate the world around us.  These are really important discussions which help students connect and understand that we all go through the same things and that we're not alone.  Our yarning circle area will be an amazing place to visit when it is finished, and we plan to hold a community launch of this early in Term Two with a 'Welcome to Country' and smoking ceremony with Traditional Owners.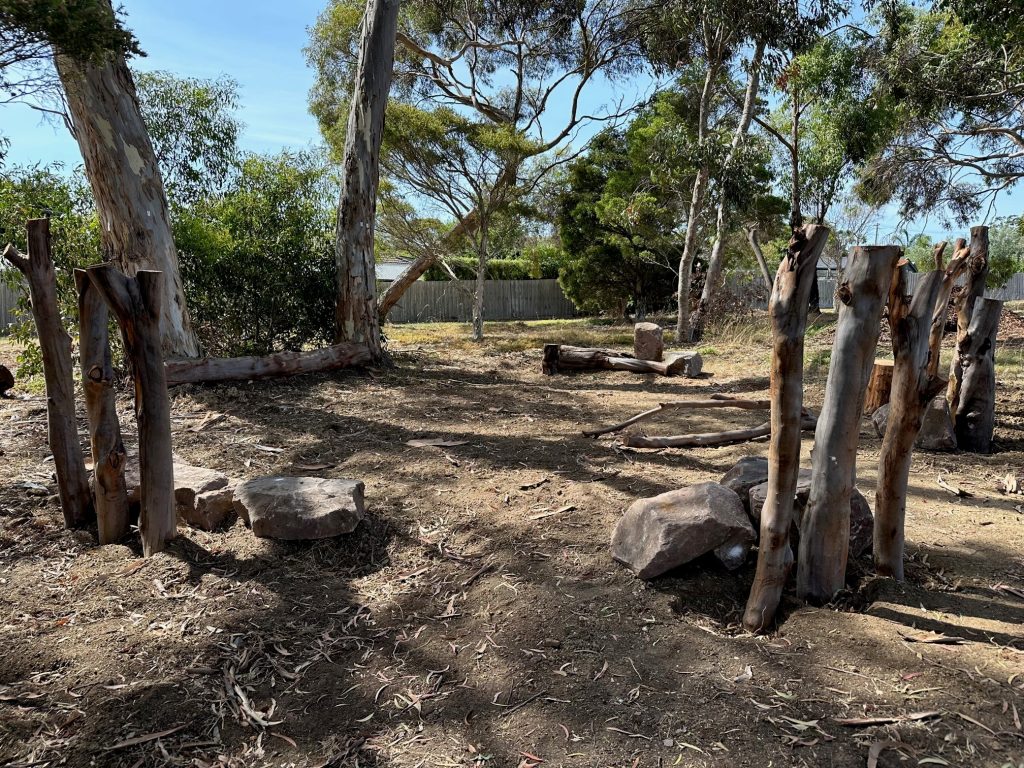 During our STEAM sessions we have continued to talk about things that switch us ON and OFF with our learning. We know that bright colours are a SWITCH on for many so we tried our hands at making a Lava Lamp. All classes enjoyed making a LAVA lamp and discussing the science behind it! So much science was happening in one glass. The preps were able to understand that the oil floats on top of the water because it is less dense or lighter than water and that the food colouring has the same density as the water so it sinks through the oil and mixes with the water. They loved it when we added the fizzing tablet and watched it dissolve, making a gas (carbon dioxide), but the best part was watching the bubbles of colour go up and down!
This week in our Kitchen Garden Program, our students in the Cafe made delicious pasta carbonara followed by apple crumble for dessert.  On the menu next week our students will have a chicken schnitzel burger and a classic iced cupcake!
Our students in the garden were busy spreading mulch on some of our garden beds, and began planning out the vegetable and orchard patch gardens ready for planting.  We can't wait to harvest our fruit trees which are growing so well!